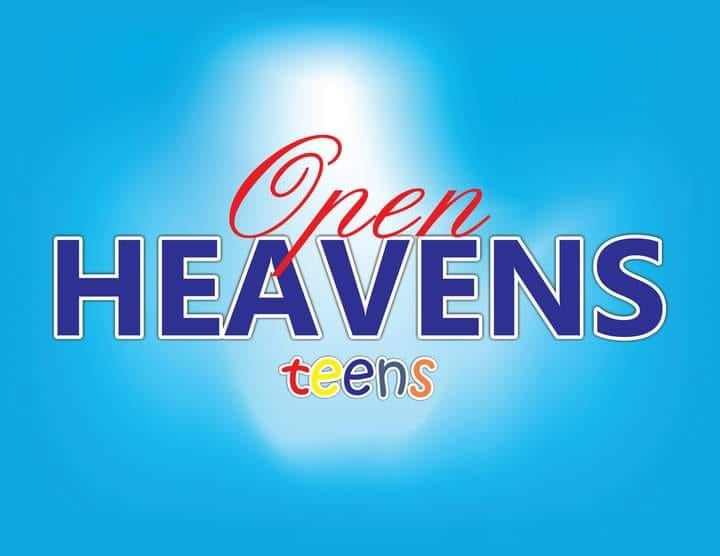 Open Heaven For Teens 5 March 2023 – Parable Of The Talents II
Click HERE for Previous Open Heaven Devotional for Teens

TOPIC: Parable Of The Talents II [Open Heaven for Teens 5 March 2023]

MEMORISE: I must work the works of him that sent me, while it is day: the night cometh, when no man can work. John 9:4


Also Read: Open Heaven 5 March 2023 – Divine Promotion I


READ: Matthew 25:14-30 (KJV)


14 For the kingdom of heaven is as a man travelling into a far country, who called his own servants, and delivered unto them his goods.


15 And unto one he gave five talents, to another two, and to another one; to every man according to his several ability; and straightway took his journey.


16 Then he that had received the five talents went and traded with the same, and made them other five talents.


17 And likewise he that had received two, he also gained other two.


18 But he that had received one went and digged in the earth, and hid his lord's money.


19 After a long time the lord of those servants cometh, and reckoneth with them.


20 And so he that had received five talents came and brought other five talents, saying, Lord, thou deliveredst unto me five talents: behold, I have gained beside them five talents more.


21 His lord said unto him, Well done, thou good and faithful servant: thou hast been faithful over a few things, I will make thee ruler over many things: enter thou into the joy of thy lord.


22 He also that had received two talents came and said, Lord, thou deliveredst unto me two talents: behold, I have gained two other talents beside them.


23 His lord said unto him, Well done, good and faithful servant; thou hast been faithful over a few things, I will make thee ruler over many things: enter thou into the joy of thy lord.


24 Then he which had received the one talent came and said, Lord, I knew thee that thou art an hard man, reaping where thou hast not sown, and gathering where thou hast not strawed:


25 And I was afraid, and went and hid thy talent in the earth: lo, there thou hast that is thine.


26 His lord answered and said unto him, Thou wicked and slothful servant, thou knewest that I reap where I sowed not, and gather where I have not strawed:


27 Thou oughtest therefore to have put my money to the exchangers, and then at my coming I should have received mine own with usury.


28 Take therefore the talent from him, and give it unto him which hath ten talents.


29 For unto every one that hath shall be given, and he shall have abundance: but from him that hath not shall be taken away even that which he hath.


30 And cast ye the unprofitable servant into outer darkness: there shall be weeping and gnashing of teeth.


BIBLE IN ONE YEAR: Joshua 1-4


MESSAGE


Yesterday, we started examining some lessons from the parable of the talents. Today, we will go a bit further. Another nugget from this parable is that your faithfulness over little is required before more is given to you. The servants in our Bible reading were rewarded with more responsibilities after they had proved that they could manage what they were initially given.


Furthermore, from this parable, we see that the more you receive, the more will be required of you. The servants were given those number of talents because that was what they could handle. Are you making the most of the resources at your disposal? Maximize all the physical resources and time at your disposal now because you'll be judged on the last day based on them.


My dear, being desirous of a great future is good, but increase your capacity for more responsibilities ahead.


BIBLE QUIZ:
What was Aaron doing while Moses was on the mountain to get the 10 commandments?
a) Praying to God
b) Having a potluck with the Israelites
c) Making a golden idol
d) Telling the Israelites to wait and be patient


ACTION POINT:


List three abilities you have and how you will use them positively in the next two months


HYMN 5 – Take My Life And Let It Be

Take my life and let it
Consecrated Lord to Thee
Take my moment and my days
Let them flow ceaseless praise.
Take my hands and let them move
At the impulse of Thy love
Take my feet and let them be
Swift and beautiful for thee
Take my voice and let me sing
Always only for my king;
Take my lips and let them be
Filled with messages from Thee.
Take my sliver and my gold
Not a mite would I withhold
Take my intellect, and use
Every power as thou shalt choose.
Take my will and make it Thine,
It shall no longer mine:
Take my heart, it is Thine own;
It shall be Thy royal throne,
Take my love, my Lord, I pour
At Thy feet its treasure store;
Take myself, and I will be
Ever, only, all for thee

Daily Devotional for Teen's guide was written by Pastor E.A. Adeboye, the General Overseer of the Redeemed Christian Church of God, one of the largest evangelical church in the world and also the President of Christ the Redeemer's Ministries.


Flatimes Notice Board: Until you are born again, God ever abiding presence will never be with you. You must be born again to enjoy continuous victory. Please say the displayed prayer below in faith:


Lord Jesus, come into my life. I accept You as my Lord and Personal Saviour. I believe in my heart You died and rose from the dead to save me. Thank You Lord for saving me, in Jesus' name Amen.


If you just prayed the prayer of salvation online please send your testimonies and prayer request to info@rccg.org, +234-1-8447340, +234-0-7098213112.