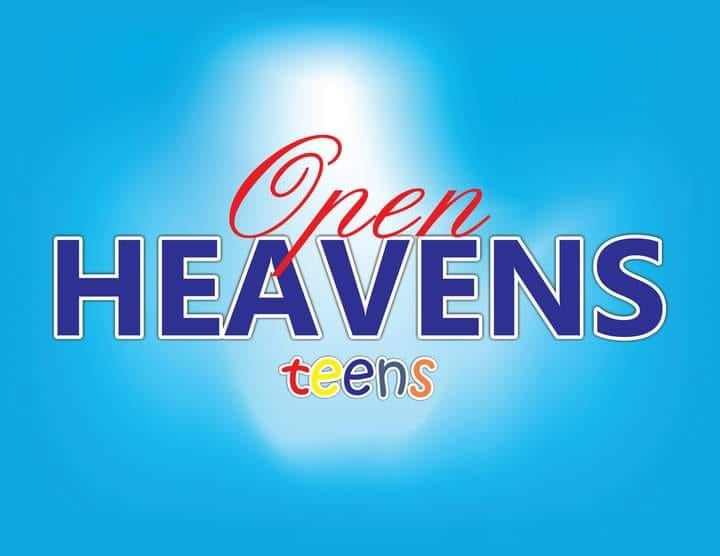 Open Heaven For Teens 17 February 2023 – The King Is Coming
Click HERE for Previous Open Heaven Devotional for Teens

TOPIC: The King Is Coming [Open Heaven for Teens 17 February 2023]

MEMORISE: Rejoice greatly, O daughter of Zion; shout, O daughter of Jerusalem: behold, thy King cometh unto thee: he is just, and having salvation; lowly, and riding upon an ass, and upon a colt the foal of an ass. – Zechariah 9:9

Also Read: Open Heaven 17 February 2023 – You Are Above Death

READ: Matthew 21:1-11


1 And when they drew nigh unto Jerusalem, and were come to Bethphage, unto the mount of Olives, then sent Jesus two disciples,


2 Saying unto them, Go into the village over against you, and straightway ye shall find an ass tied, and a colt with her: loose them, and bring them unto me.


3 And if any man say ought unto you, ye shall say, The Lord hath need of them; and straightway he will send them.


4 All this was done, that it might be fulfilled which was spoken by the prophet, saying,


5 Tell ye the daughter of Sion, Behold, thy King cometh unto thee, meek, and sitting upon an ass, and a colt the foal of an ass.


6 And the disciples went, and did as Jesus commanded them,


7 And brought the ass, and the colt, and put on them their clothes, and they set him thereon.


8 And a very great multitude spread their garments in the way; others cut down branches from the trees, and strawed them in the way.


9 And the multitudes that went before, and that followed, cried, saying, Hosanna to the son of David: Blessed is he that cometh in the name of the Lord; Hosanna in the highest.


10 And when he was come into Jerusalem, all the city was moved, saying, Who is this?


11 And the multitude said, This is Jesus the prophet of Nazareth of Galilee.


BIBLE IN ONE YEAR: Numbers 25-26


MESSAGE:


When the Governor of a state declares his intention to visit a particular community, the news spreads like wildfire. The people become happy and preparations are made for his arrival. This is the same with the coming of Jesus amongst Christians who are truly living for Him.


The joy of every Christian is that Jesus is coming back to take us home. Apostle Paul said if we have no hope of eternal life with Christ, we are miserable (1 Corinthians 15:19) but thanks be to Jesus our King because He is coming back to take us home. The question now is, "Are you ready for His coming?" If Jesus comes today, will you be raptured with Him?


A fellow that is ready for His coming will not engage in any kind of sin. He/she will keep his her gown spotless for His coming. He/she will win souls daily so that he/she can receive crowns. I charge you to live your life as though Jesus will come the next minute. Don't be too comfortable in this world because it is not your home.


PRAYER POINT:


Father, let me be caught with you when you come, in Jesus'name


HYMN 16 – Breathe On Me

Breathe on me, Breath of God,
Fill me with life anew,
That I may love the way you love,
And do what you would do.
Breathe on me, Breath of God,
Until my heart is pure,
Until my will is one with yours,
To do and to endure.
Breathe on me, Breath of God,
So shall I never die,
But live with you the perfect life
For all eternity.

Daily Devotional for Teen's guide was written by Pastor E.A. Adeboye, the General Overseer of the Redeemed Christian Church of God, one of the largest evangelical church in the world and also the President of Christ the Redeemer's Ministries.


Flatimes Notice Board: Until you are born again, God ever abiding presence will never be with you. You must be born again to enjoy continuous victory. Please say the displayed prayer below in faith:


Lord Jesus, come into my life. I accept You as my Lord and Personal Saviour. I believe in my heart You died and rose from the dead to save me. Thank You Lord for saving me, in Jesus' name Amen.


If you just prayed the prayer of salvation online please send your testimonies and prayer request to info@rccg.org, +234-1-8447340, +234-0-7098213112.