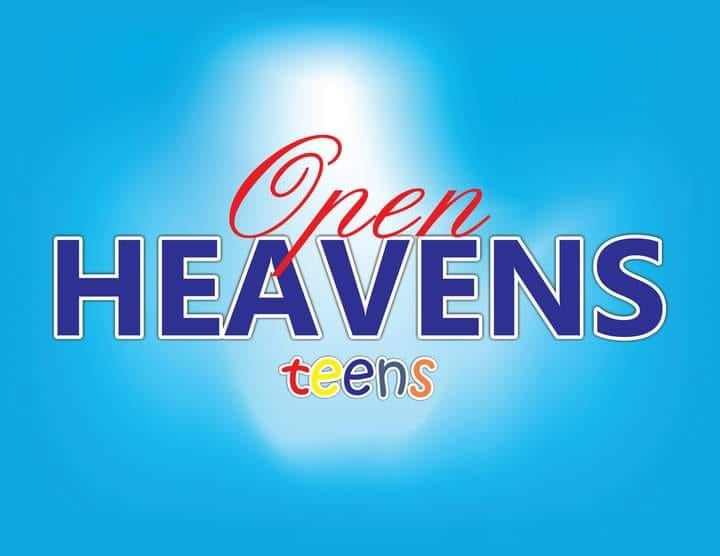 Open Heaven For Teens 3 February 2023 – Be Faithful
Click HERE for Previous Open Heaven Devotional for Teens

TOPIC: Be Faithful [Open Heaven for Teens 3 February 2023]

MEMORISE: Give, and it shall be given unto you; good measure, pressed down, and shaken together, and running over, shall men give into your bosom. For with the same measure that ye mete withal it shall be measured to you again. Luke 6:38

Also Read: Open Heaven 3 February 2023 – Loving God Truly

READ: Proverbs 3:9-10


9 Honour the LORD with thy substance, and with the firstfruits of all thine increase:
10 So shall thy barns be filled with plenty, and thy presses shall burst out with new wine.


MESSAGE:


Your offering is an act of worship: it is a way of showing gratitude to God for His provision. Many young people are guilty of unfaithfulness in giving to God. They hide under the statement "God will understand". He understands principles and one of the principles of receiving blessings from Him is faithfulness in giving to Him.


For every promise of God to His children, there are conditions to be fulfilled. For instance, God blessed the children of Israel in Deuteronomy but then, the blessings were hinged on their obedience to Him. Thus, if you are faithful in the giving of your offering to God, no matter how little, He will supply all your needs and you will never lack anything. In fact, He will give you more than you gave.


As my children, I implore you to distance yourself from false teachings against faithfulness in payment of tithes and giving of offerings. Know that God rewards those who are faithful to Him.


PRAYER POINT:


Father, forgive me if i have ever robbed you in Jesus' name.


BIBLE IN ONE YEAR: Leviticus 19-21


HYMN 18 – When We Walk With The Lord

When we walk with the Lord,
In the light of His word,
What a glory He sheds on our way!
While we do His good will
He abides with us still,
And with all who will trust and obey.

CHORUS
Trust and obey!
For there's no other way
To be happy in Jesus,
But to trust and obey.

Not a shadow can rise,
Not a cloud in the skies,
But His smile quickly drives it away;
Not a doubt nor a fear,
Not a sigh nor a tear,
Can abide while we trust and obey.
Not a burden we bear,
Not a sorrow we share
But our toil He doth richly repay;
Not a grief nor a loss,
Not a frown nor a cross,
But is blest if we trust and obey
But we never can prove
The delights of His love,
Until all on the altar we lay,
For the favour He shows
And the joy He bestows
Are for them who will trust and obey.
Then in fellowship sweet
We will sit at His feet,
Or we'll walk by His side in the way,
What He says we will do,
Where He sends we will go,
Never fear, only trust and obey.

Daily Devotional for Teen's guide was written by Pastor E.A. Adeboye, the General Overseer of the Redeemed Christian Church of God, one of the largest evangelical church in the world and also the President of Christ the Redeemer's Ministries.


Flatimes Notice Board: Until you are born again, God ever abiding presence will never be with you. You must be born again to enjoy continuous victory. Please say the displayed prayer below in faith:


Lord Jesus, come into my life. I accept You as my Lord and Personal Saviour. I believe in my heart You died and rose from the dead to save me. Thank You Lord for saving me, in Jesus' name Amen.


If you just prayed the prayer of salvation online please send your testimonies and prayer request to info@rccg.org, +234-1-8447340, +234-0-7098213112.